Do You Know Your Audience?
Want to know who you should be reaching? Take a look at some people who have similar audiences.
For instance here's Tony Robbin's Audience: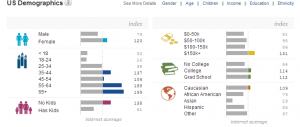 Notice it's skewed towards 55+ Women With a College Degree, No Kids, Who Make 150K+.
Or …
Take a look at Jack Canfield's Audience:

Still women, but slightly younger and better educated, with more Hispanics.
Or …
Here's Brian Tracy's Audience:

Still a majority of women, but not so much and more African Americans and Asians.
Why is this important?
Because if you know EXACTLY who your audience is, you can afford to pay to go out and find more.
If you know who wants what you have to offer, you can search them out selectively.
Looking at your competitors will give you an idea of who might be attracted to you.
How do you find out?
Try looking at the demographics of your competitor's websites at:
Once you know who your audience is it's much easier to find them and reach them.
As for me ….
WANTED: 55+ Women With a College Degree, No Kids, Who Make 150K+
I'm well past the dating age and married for 32+ years, so this is not about the romance, but it is about knowing who may respond to your message.
Would love to see you at jvAlert Live or my One Day Intensive Events — you'll fit right in and soon be a part of an amazing family!
All the best,
Ken McArthur
KenMcArthur.com
jvAlertLive.com
OneDayIntensive.com
TheImpactFactor.com
P.S. Let's get together in person.  It makes life so much better!