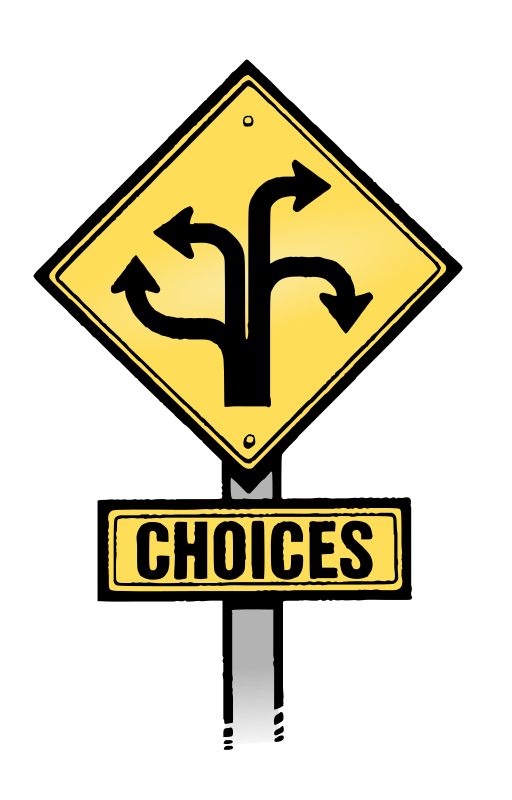 ABOUT CHOICES: We all make choices every day. The choices we make are exactly what we want to do at that moment.
As humans, we are required to make those choices with incomplete information and often quickly, so we are hard-wired to choose based on what we know, and what we sense in that moment is the best option. Sometimes, the choices are excellent and sometimes we make awful decisions. Being aware of the outcomes of our decisions can help us train to make better choices faster and with less information.
Being aware of our prejudices, strengths, and weaknesses can also help. As far as purpose and meaning go, I tend to find that we are at our best when we are both taking care of ourselves and giving to others. Living inside ourselves can be a lonely existence and giving to others can be a joy and besides, it makes the world a better place to live in.
Working together, we can do so much more than we ever could alone. That has meaning and purpose. Remember, the choice is always yours and you can always choose to make a better one, right up until the time you can't.
That's why drivers think they are doing so well. There is strength and efficiency in making quick decisions and moving on. Of course, if you make the wrong one too quickly, you run out of options.
That's why the analytical person tells you to be sure to check out all of your options. Then the intuitive person tells you just to go with your gut, because it's usually right, and someone else will tell you to get organized before you do anything!
They are all right and all wrong. We need both speed and quality when we make a choice.
YOU get to decide what's most important, meaningful, and purposeful for you right now. That can change in a heartbeat, but it's your choice today.


All the best,

Ken McArthur
Best-Selling Author and Producer
KenMcArthur.com
The Impact Factor Movie
The Impact Masterminds