Seth Godin Drinking His Own Purple Cow Results
Seth Godin is the author of ten books that have been bestsellers around the world and changed the way people think about marketing, change and work. His books have been translated into more than 20 languages, and his ebooks are among the most popular ever published.
If that wasn't enough to keep him busy, he's also the founder and CEO of Squidoo.com.
His latest book LINCHPIN hit the top ten on Amazon the first day it was released and he personally impacts me every day with his latest blog post as the most influential business blogger in the world.
Over the years Seth has taught us how to be remarkable, now he's trying to make you indispensable.
There's a new passion to his writing as Seth drives you beyond loving your work and into living your art.
Seth thinks that we all make a difference and he's out to show you how you can be the essential building block of what ever you choose to be a part of.
"The lizard brain is the reason you're afraid, the reason you don't ship when you can. The lizard brain is the source of the resistance."
Godin is as quotable as it gets and his "lizard brain" analogy is right on target, but what I really can lock into is what Seth has to say about what it truly means to be a valuable gift giver and how important it is in this day and age to become an artist.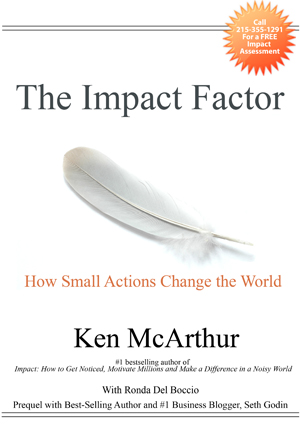 Seth!  Tell Me a Story!
I had the honor of interviewing Seth for my latest book, "The Impact Factor: How Small Actions Change the World." and I wanted to share two stories that he told for my new book to help me illustrate how small actions can make a big difference.  It was a gift Seth gave me without any expectation it would ever pay off for him.
Now I'd like to pass this gift onto you.
Listen to Seth Godin's amazing stories!
Ken McArthur Talks To Seth Godin
And grab your copy of Linchpin and my latest book, "The Impact Factor: How Small Actions Change the World." !
All the best,
Ken McArthur
KenMcArthur.com
jvAlertLive.com
OneDayIntensive.com
TheImpactFactor.com
And many more …
Podcast: Play in new window | Download
Subscribe: Apple Podcasts | Google Podcasts | RSS