Your Reality is Probably Exactly What You Make It – So Forget Reality!
Odds are your reality is whatever you think it is.  If you think your life is miserable, it probably is and conversely if you think life is pretty good it probably is.
So let's forget reality for a moment, because everyone seems to create their own.
Let's just talk about how it feels.
And for some people these days it feels pretty lousy.
Here's what one of my readers had to say …
I'm afraid I'm feeling extremely depressed at the moment. I feel as if all my efforts have been for naught, and that I've been naive beyond measure. I followed the gurus' advice, bought their products, stayed focused, and remained steadfast in my determination to succeed.

Here's my story. I hope that it will, perhaps, prevent someone from making some of the same mistakes I made along the way. It is my sincere hope that people approach the Internet with realistic expectations and a firm business plan.

A brief background: I owned my own public relations firm for many years, and produced a national health symposium in Las Vegas. I had over 100 speakers, on-going seminars, continuing education courses for doctors and nurses, special programs for senior citizens, and about 500 exhibitors. I wrote all the collateral materials for this event and handled all the promotions, including television and radio spots.

I've been a professional writer and editor for over 30 years and worked for numerous Fortune 500 companies in that capacity.I was the Executive Director of an international technological society where I coordinated conferences for the members, and managed fund-raising efforts and membership drives.

In addition, I am a certified hypnotherapist and was in private practice, with five offices, in Southern California.

As you can see, I have an eclectic background!

When I first began my Internet quest, it was an unusually snowy winter in Oregon and, since I was stuck inside, I thought this the perfect time to learn everything I could about Internet marketing. After all, I had "conquered" the offline world, how different could the online world be?

Very different!

Ross Goldberg held a mega-webinar series for two solid weeks featuring the most successful names in the business. I sat glued to my computer and took copious notes. The more I learned, the more I realized there was yet to learn. I continued this leaning process for the next six months. I then started my first blog, Time-Out For Moms, with the goal of helping moms conquer their feelings of stress and low-esteem by offering them informational articles and quality products.

I was then informed by a famous coach that I needed to add a unique twist to the "mom" niche and, since I was a hypnotherapist, was directed to provide "female-oriented" hypnosis products. So, I found some great affiliate programs and incorporated them into my site.

After a year into the project, and no sales, I signed up for Ed Dale's "Challenge," which lasted 3 months. From this course, I learned the importance of keyword research and realized that this was something I had not done prior to jumping into my mom site. I started a new site called, Teapot Collectables, and followed the instructions given during the Challenge to the letter. I purchased their keyword search product, Market Samurai, and in a short period of time, found myself on the first page of Google. I had some traffic, but still no sales. I discovered that being number one on Google does not necessarily translate into income. Although teapots are a fairly stable product, there isn't a great need for them.

A major drawback for me was being reliant on affiliate programs. I created numerous Amazon "stores" only to find out (too late) that although a product may be found on Amazon, if it's sold from an external site, no commission is earned. I joined CJ, but found that vendors are constantly becoming deactivated, thereby nullifying any commissions earned during their deactivation period.

Although I've been a writer for longer than I care to remember, I must admit that HAVING to write posts and articles with the intention of driving traffic and/or selling products has become tiresome, frustrating, and joyless.

I then decided to create a new site that offers my services as a writer and editor, instead of selling other people's products. However, when I did my due diligence, I found thousands of online writing and editing sites. How in the world would I be able to stand out from the crowd? What could I offer that was unique and filled the need of a starving market? I explored freelance markets and, to my dismay, found out that the pay for articles, posts, and PLRs is extremely low by "real" world standards. As a freelance writer, I was earning between $1500 and $3000 for a magazine article. On the Internet, that same article might earn me between $2.00 and $10.00.

Needless to say, this left me disillusioned and heart-broken. I've hit a brick wall and don't know where to go from here. I've attained many great Internet skills over these past few years and feel that I can truly help others write top-notch articles and posts that will drive traffic to their sites. But most people seem to care more about quantity than quality. Out-sourcing has become an acceptable practice. It's cheap, fast, and fairly dependable through sites such as Elance.

I can't compete with that!

I'm burned out, but love working on the Internet and feel I have much to offer.

I would love to partner up with someone who has the technical skills I may lack. I love to research, write, edit, and create beautiful sites. But that's not enough to be successful on the Internet.

I sit here on the second day of January, in a brand new year, completely devastated. What do I do with all this great knowledge and experience? I can't keep hitting my head against the same wall and expect different results. I was so filled with hope and optimism a few years ago, but now I feel like a complete failure.

I receive newsletters from every "guru" on the planet. I've started to unsubscribe from all of them. It's not easy. I keep thinking I might miss that one piece of the puzzle that will make all the difference. I don't want to buy any more "gizmos." I don't want to take any more classes. I don't want to reinvent the wheel.

I want to keep it simple. I want to write and edit. I want to help people lead better lives. I want to make people feel happy, hopeful, and fulfilled.

But how can I do that when I feel like a complete loser? I feel so lost and abandoned.

I am completely open to any and all suggestions. I value your opinions.

Thank you, Ken!

To Ken, and all the wonderful people on Tobri, I wish you a very happy and prosperous New Year.
Feel the pain and frustration?
This is a person who followed the best advice she could get, stuck with it and still isn't achieving the kind of results she wants and at the end of it all — she feels bad.
There's Bad News and Good News
Let's get the bad news over with first.
Bad News
1. Most people shouldn't own their own business.
Face it … most people shouldn't do … well just about anything.  Here's a short list of things I definitely shouldn't be trying to be:
Dancer
Football Player
Accountant
President
Garbage Collector
Lawyer
Medical Doctor
Plumber
Retail Clerk
Gardener
The list goes on far longer than the list of things I should be doing!
Some of those jobs I think would be pretty cool, but the likelihood of my being President of the United States, a medical doctor or lawyer in this lifetime are not very good.  My education and skills haven't really prepared me for any of those jobs and I have limited time to reach my goals.
Some of those jobs I would hate and I just don't see myself being happy doing things I'm miserable doing.
Some of those jobs I could master and not have a lot of passion about.  I love being passionate about my work.
Most people shouldn't own their own business.
2. Owning a business (even on-line) isn't easy!
I've made a decent living on-line for over a decade and it's still not easy for me.
I haven't had one success story that was easy in the last ten years.
On the contrary, they were all hard and my biggest successes were the hardest of all.
I've had single e-mails that earned me thousands of dollars for a click of the button, but the things that made those flukes happen took years to build.
I still wake up every morning worried about not having enough time or resources to do everything I want to do.
But then what good things are easy — save the gift of giving an encouraging word to someone who needs it.
3. It's complicated.
If you really thought about everything you need to know to do Internet marketing effectively — you would never do it.
Here's Rich Schefren's famous graphic illustrating some of the things people have to do.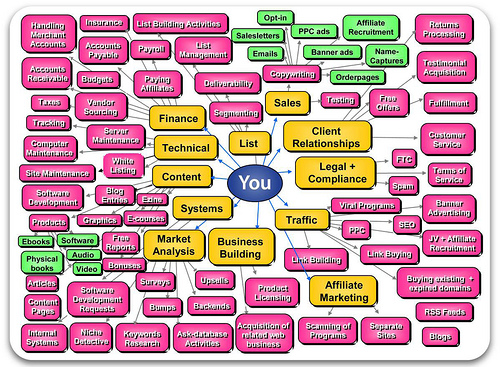 Here's the Good News!
1. The best way, is the simple way.
Forget about trying to learn everything in the chart above.
What you need to do is to earn your first dollar.
That should be fairly simple.
2. There are only three things you need.
The three things are a product or service to sell, an audience to sell it to and a way to convert some of them into buyers.
If you don't have all three, you don't make any money, but if you do have all three EVEN IN A SMALL WAY, you will make money.
So start small.
You don't need the best product, the biggest audience or great conversion.  You just need something to sell someone, at least one person who will buy it and any way you can use to convince them to do it.
3. You can always get better.
There are countless ways to get more audience, improve your product and get better conversion, but all you have to do to start is to sell one thing to one person.  Get those steps in place and you are set to grow!
Here's the Bottom-Line
It's not easy and it may not be for you.  It takes persistence and knowledge, but that's not enough.  You have to have the basics in place —  Audience, product to sell and conversion.
Start with the basics and get it through to at least one sale.
Then start improving.
Once you can get through the process you can identify your weakest areas and improve them.
Remember, you don't have to do this alone.  I had over 50 people helping me with my first info product.
Events like jvAlert Live are a great place to meet your partners and get the knowledge you need.
But …
If you don't have the basics, you will never make money.
By the way …
Don't give up to early.  You might be 3 feet from the gold.
Hope this helps!
All the best,
Ken McArthur
Tobri.com
KenMcArthur.com
jvAlertLive.com
And more, more, more.