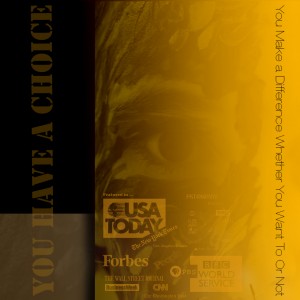 The List …
I put together a long list of ways I've developed to help people create the impact that they want to have.
You can see the list at:  https://kenmcarthur.com/help
It's a rather daunting list of options and sometimes when we are presented with a list of options we get even more confused.
So how do you choose?
By nature I'm a thinker.
I'd be happy to be able to sit around and think all day — not very productive, but happy!
I would guess that you do a fair amount of thinking yourself.
Meanwhile, you are impacting thousands of people — most likely without even being aware of it — for good or bad.
You have a choice and it's a choice that's bigger than you could ever imagine.
You can choose to do nothing — and thousands will be impacted by your inaction.
You can choose to leverage the art, science and technology that we have today to impact millions.
Yes, it is a scary thought.
But, it's even scarier to be aware that you are making that choice whether you want to or not – every day, in everything you do.
That's the weight of knowing that you CAN do something, but may be choosing to wait.
I face that knowledge every day — certainly not always eagerly.
Can you make life better for someone?  Absolutely.  We all can.
Can you make life worse for someone?  Absolutely.  We all do.
If you see a way to make something better and do nothing, what is the cost?
That's the core of the impact factor.
Not that we can manipulate people into doing what we want them to, but that we can influence the world to be better.
And sadly, if we don't there will be a cost.
No, I'm not trying to put the weight of the world's problems on your head or mine.
Luckily, you and I aren't the only people trying to make life better for people.
But, it's sobering to realize that what you do matters.  It matters so much.
So here's my take on what we could do together.
Let's start with what I wouldn't recommend.
Some of these options are budget dependent.
If you don't have at least $10,000 to invest, then the Impact Platinum Mastermind isn't an option.
If you don't have at least $5,000 to invest, then longer term personal mentoring isn't an option.
If you don't have at least $1,000 then the Impact Action Workshop or personal consulting or short term mentoring isn't an option.
If you don't want to create products then the Get Your Product Done Event doesn't help.
The Impact Marketing Association is wonderful if you are in the Philadelphia area, but if you aren't that doesn't help you until we open up chapters in other cities — Coming soon!
The One Day Intensive, would be very helpful in getting clarity and actions steps to take right now, but a longer term relationship could be important.
A half-day or full day of consulting is completely devoted to you and your project.  The same comment on longer term relationship applies there.  The only differences between the two is that one is group and one is individual and the group investment is less.
As an experience the Impact Platinum Mastermind would be wonderful for you, because it's great people, long-term and strategic.  It's also the most cost-effective way for me to mentor people long-term.  It gets the best results for people who already have a business model, audience, products and services and conversion in place.   It requires a year-long commitment and $10,000 investment, but it really is the best long-term solution for someone trying to be the best at what they do, because it's complete access to me, the amazing people in the group, all of my other programs and everything I can do to help.  It produces the best results for people and organizations who are already producing income and reaching their audience, but who want to continue to reach higher.
The Impact Action Workshop is very project focused.    It's all about setting clear goals that are executable in a 90 day timeframe and executing on them.  That's wonderful if you know what you want to accomplish in that kind of a timeframe.
Because we are featuring case-studies from these workshops in The Impact Factor Movie you can get tremendous exposure.  Plus you get lots of personal mentoring and attention from me over a 90 day time. If you can't get clear on the objective and focused for that 90 day period then it will be less effective.  You have to come prepared to be intensely involved for 90 days or more.
If you are completely unique and want individual attention then it's possible that I could choose to mentor you privately on an individual basis.  I'm limited in the number of people I can do this with because it's time for dollars and my time is my most valuable asset right now.  Mentoring take time. and somehow, I've neglected to figure out how to multiple my available hours in the day, so I just have to try to create the highest leverage for the limited amount of hours I have to share.
Of course, you can always go for a more "do it yourself" approach and tap into my on-line programs like the Impact Action Plan and the Info Product Blueprint programs.
At the very least, I'll go out on a limb and say you should be at the Impact Event.
You can be with some of the most incredible people I know, learn a ton, get clarity and build relationships that will certainly last for a decade or more.
Bottom-line it's your choice.
You can choose to do something amazing together.
You can choose to find someone else to help.
You can choose to do it all on your own — I know you can do it on your own because I've done that.  (It's hard work, lonely and not leveraged at all, but it can be done.)
You can choose to do nothing.
With all my heart I encourage you to do something, because …
It's in doing that we find clarity.
It's in doing we figure out what NOT to do.
It's in doing  we have greater impact.
And you are going to have an impact whether you want to or not.
Hope this helps!