Here's how jvAlert started:
I'd just created a very successful joint venture with Jim Daniels and I got to thinking.
"If a simple joint venture with Jim could produce a quarter million dollars worth of recurring revenue in six short months, what could I do with MORE joint venture partners."
So I asked Jim …
"Who would YOU like to joint venture with?"
One by one, we invited some of the top-internet marketers in the world to join us for the brand new jvAlert membership site.
Some of our first members included some real pioneers of the Internet:  Yanik Silver, Mark Joyner, Declan Dunn, Jim Daniels, Willie Crawford, David Garfinkel, Phil Wiley, Robert Imbriale, Neil Shearing, Holly Cotter,  Shawn Collins, and Larry Dotson.
Then we asked them to hand-pick the people THEY wanted to work with.
The place was amazing.
Only the best of the best were in and there was magic going on.  There were list building joint ventures that created over a million subscribers, there were multi-million dollar joint ventures flying around like sea gulls on a 60 MPH updraft.
Then we decided to step things up a bit.
All of our members decided to invite their lists into jvAlert on a single day and in the first day of pre-launch jvAlert.com launched into Alexa's Movers and Shakers List and captured a 362 ranking out of all of the sites on the Internet.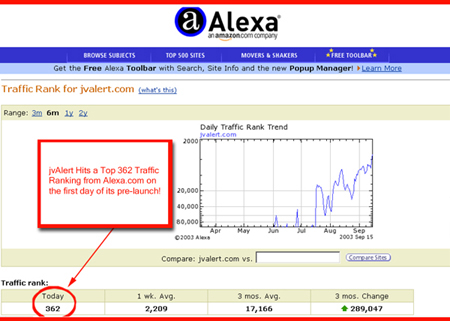 Oddly Enough Having Thousands of New Members was a PROBLEM!
Suddenly the quality of joint ventures went down.  We had thousands of new members who really didn't have a clue about what a joint venture was, how to create a great one and who didn't have the experience, resources, drive and credibility to operate at the level that our members expected.
So we scrambled.
We taught people the best ways to create joint ventures and what made up a great proposal.  We stopped automatically sending out proposals to our members and put a manual review and education process into every joint venture offer that went through our system.
Things got a lot better after that.
Next we created the  jvAlert Live Events
I have to tell you that I LOVE jvAlert Live.  At every live event I watch the faces of people who's lives have changed.  I spend time in person with them and watch them grow and thrive.
And I got a bit lazy …
Actually, it wasn't so much lazy as busy.  We were doing 5-6 live events a year, my book launched, I took the Impact Action Team on a thrill ride to create awareness for teen suicide prevention … then T obri … the list goes on.
And the jvAlert membership site didn't get a lot of focus.
Sure jvAlertLive.com was thriving with 3 live events a year, but if you go to jvAlert.com today you will see exactly the same webpage as was there on September 15, 2003 when it hit 362 on the Alexa charts.  The site is still by invitation only, but I've been hesitant to ask anyone in for quite a while, because it's past time for a major re-build and relaunch.
Right now is the time to change that.
Now if you are going to relaunch an amazing, historic site like jvAlert.com I think you need to do something special.
So whatever I do will be mind-blowing.
One of the problems after the original push to the #362 Alexa ranking was the rush of people who to be honest, just weren't quite ready for jvAlert membership yet and I want to avoid that mistake this time around.
One of the reasons for the huge SUCCESS was the quality of the people … and the fact that it was by invitation only.
When the masses got involved, the quality of the experience slipped a bit.
Which brings us to …
Dunbar's Number
According to wikipedia:
"Dunbar's number is a theoretical cognitive limit to the number of people with whom one can maintain stable social relationships. These are relationships in which an individual knows who each person is, and how each person relates to every other person. Proponents assert that numbers larger than this generally require more restricted rules, laws, and enforced norms to maintain a stable, cohesive group. No precise value has been proposed for Dunbar's number, but a commonly cited approximation is 150."
Every top-level marketer has the same problem.
You just can't create quality joint venture's with everyone.  Thousands of people want you to work with them, promote their products and most of those projects you shouldn't touch with a ten foot pole.
Joint venture success is all about building long-term, DEEP relationships with a core group of  people, you know like and trust and who have demonstrated that they can contribute to your success.
Dunbar says you are going to have trouble building those kind of relationships with more than about 150-200 of those people.
My starting criteria for the relaunch
1. I'm going back to my original model for jvAlert.
We started with just a few people and then allowed them to invite a few people that they personally wanted to work with into the group.
When we changed to having members invite subscribers we got unbelievable traffic and rankings, but the dynamic of the group wasn't the same.
If you are an existing paid member of jvAlert.com don't worry!
I'm not kicking anyone out and I'm not raising your monthly subscription.  You are definitely grandfathered into the new system and will get all the new benefits, but I am changing the rules for the new jvAlert membership.
2.  Members will need to have skin in the game.
jvAlert membership was launched at $69 per month and quickly raised to $75 per month, which in 2003 was an investment that showed you were serious about creating joint ventures.  We were specifically looking for people who were interested in building a solid on-line business by INVESTING in their business not people just looking for free advertising for their joint venture offers.  There are PLENTY of places willing to put out JUNK offers for nothing.  We are looking only for the best.
I expect to raise the investment to $97 per month to reflect today's marketplace, so figure if you want to join the all NEW jvAlert at launch, you will have to invest at least $97 per month to be a member.  I know that some people will argue that it should be higher.  That's the "exclusive" crowd saying those kinds of things, but I'm not trying to force anyone out because of the economics.  I'm not looking for the "exclusive" crowd.  I'm looking for the QUALITY and VALUE crowd.
3.  I'm limiting the total number of members to an effective Dunbar number.
The experts argue on what Dunbar's number really should be.  Some argue that it should be higher, but I'm pretty convinced that the number is in the 150 – 200 range.
If you've ever been to a live event you know that after about 200 people, the dynamics in the room change.  That's why I've always tried to keep the number of people in the room at jvAlert Live below that number. (That's why we have 3 events a year instead of one HUGE one.
How the jvAlert relaunch will work
1. I'm going to invite a VERY few people – one at a time to join the new jvAlert.
2. I'm going to ask those KEY people to give me advice on how I can create rock-solid value for the group, in the form of a brand new website, new event opportunities (online and offline), services and solid resources.
3. As these individuals commit they will be able to invite a few select individuals who THEY would most like to work with.
4. When we cap out at Dunbar's number we will close all new invitations, until a spot opens up, so we can keep total membership under Dunbar's number.
Quickly the website, events and resources will be relaunched and filled with the best of the best.
What you can do right now
1. If you are already a paid member of jvAlert, you don't need to do a thing.  Everything will be better than ever very soon.
2. If you aren't a paid member of jvAlert and already KNOW that you want to be a part of this amazing group e-mail me at ken@ any of my websites and let me know.  DEFINITELY,  if I don't personally know about you and your accomplishments so far, please let me know. I can't promise you an invitation, but if I think it's a good match, I'll add you to the possible invitation list.  Final selections are based on the qualifications and quality of the people who would like to be invited.  It makes sense for everyone for us to invite the best of the best.
3. If you have suggestions for increasing the value, please let me know.  We want to include as much value as humanly possible.  We already know that we will be including attendance at jvAlert Live events and special events which will be held online and offline for our paid members only.
4. If you know of someone who I SHOULD invite in the first round pick, please suggest their names in the comments.  I'm going through my list of the best of the experts and speakers who have participated in our live events,  existing jvAlert members and outstanding thought leaders.  Literally, thousands of people have attended our live events and many of them were just as amazing as our experts on the stage.
Finally …
I'd love all of your suggestions on how I can make this relaunch the best it can possibly be.
Please e-mail me your thoughts or post in the comments here.
Let's make this special.
All the best,
Ken McArthur
Tobri.com
KenMcArthur.com
jvAlertLive.com
And more, more, more.