Are You Stuck at the "What Can I Get?" Level?
Most people are stuck– even if this doesn't apply to you.
Of all the people who to any church, synagogue, temple, mosque, community meeting, political organization or special interest group, most of  them are stuck at the "What can I get" level of participation.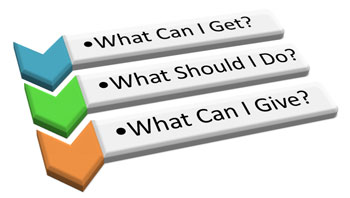 In church, most people come looking for that good feeling they get when they see their friends or hear a well preached sermon or see their kids up in front of the church singing.  In fact, people start getting upset if they don't get that feeling everytime.
Maybe the preacher has a bad day, your friends didn't show up or your kid didn't get picked for the big part in the pagent.
Then you start thinking, "Why do I bother?  Is this really worth it?"
A lot of people stop being involved at this stage.
Maybe it's a political party that you thought you jelled with.  There was a charismatic politician who you loved to listen to, core beliefs that you felt good about and you thought you could make a difference.
Then the politician got caught in a messy love affair, the party changed its direction and you didn't feel like you even had a voice.
Most people who join a political party are stuck right there.
But a few people go a little farther.
It starts by asking the simple question, "What should I do?"
Those people are far more likely to stick around.
If you want people to stick around in a church or a political party, the first thing you should do is give them something to do.
Actions involve us in a way that glues us to a group.  It's no longer us versus them.  Actions make people into strong, connected, impact producing teams.
But if you REALLY want success.
Start asking the question …
What Can I Give?
Whether it's a church, synagogue, temple, mosque, community meeting, political organization, special interest group or success with your business, the real rewards come from giving.
If you are asking what you can get, you may in fact get many things.
But if you are giving without anticipation of getting anything back, you will have countless rewards.
When's the last time you really committed to give?
Time and money is short for everyone and it's easy to stay at the "What Can I Get?" level of participation.
I've done it many times myself, but every time that I stay at that level the returns are small.
How much did YOU commit to the last free e-book you purchased to take your business to the next level?
Let's ramp up the level of participation!
The original jvAlert membership system was great partners who put out quality joint venture offers to the best of the best.
But what if we really ramped that up.
I want to actively DO things together, because LEARNING is great, but DOING is what makes success happen.
Have you noticed?
All through my life, I've been DOING things, not just talking about it.
And I've learned …
We can do so much more DOING THINGS TOGETHER than we can trying to do it all by ourselves.
So I want to help you do this with a group of REALLY great, giving people.
So how can I help …
LET'S START WITH CLARITY.
If you are feeling at all confused about exactly what you should be doing, I can help.
As human behavior expert, Stephanie Frank says, you really need know who you are, what you want to do, who you want to do it for, how you reach them and what to sell them, so I've designed a 26 page questionaire to help you figure that out right at the start.
The core questionaire was developed for our Impact Action Team to help them define exactly what they wanted to achieve and how they wanted to get there, so it's a proven resource — after all it helped them get the word out to over 19.1 million people in 30 days.
THEN LETS GET YOU TO GENERATE SOME ACTIVE INCOME.
Let's start taking the knowledge and resources that you already have and make them actively produce income right away!
It's the low hanging fruit that gets you kickstarted into high gear.
Let's build a solid foundation that generates new fresh income, supports what you are trying to do so you can deliver solid value to everyone you touch.
We KNOW what works!  There's an art, a science, masses of technology and a world of best-business practices that can move you from barely getting by to a strong supportive platform that you can really start to leverage in a professional, sustainable and ethical way that goes beyond what you imagine you can build.
At the same time we help you tap into the leveraged synergy of the combined resources, reach and wealth of experience of the people around you in an ever expanding circle of relationships, partners and friends proactively designed to match your dream team.
Even more importantly we enable you to provide solid value, professional, polished results, so you know you have impacted this world in a way that goes beyond one life.
So how do we do that?
Once you know who you are, what you want to do, who you want to do it for, how you reach them and what to sell them
The first thing that we need to do together is to get you earning active money.
Start with that old, dead, unused STUFF laying around your head, your house and your community and start turning it into active, living, fresh, new sparkling DOLLARS.
Second …
We start building step-by-step, piece by piece, the evergreen, clear, professional and value driven modules that make up a solid foundation for everything you do in your life, your business and for the people you want to impact beyond your own life.
Third …
Together, we reach out and inspire and motivate the people around you, to create the synergy of action that allows us to leverage our combined relationships, partnerships, community, resources and reach for maximum impact.
Finally …
We go beyond just one life to impact the lives of everyone around you.
THIS WORLD IS CHANGING FAST AND IF YOU DON'T KEEP UP, YOU WILL GO UNDER.
Here's what I'm hearing from my friends, students and clients:
People are tired of junk.
People want to know who to trust.
People are tired of useless, "you promote for me,   I'll promote for you" thinking.
People want long-term solid relationships and deep   level partnerships with shared resources.
People want live networking opportunities.
People want facilitated advice and joint venture partners for projects they create.
People want to expand their networks of potential partners, but only to quality, reliable partners.
People want to combine resources to leverage marketing clout and negotiations for shared services.
People just getting started want to be included, and educated so they know how to do things correctly and effectively.
It all starts with leadership.
For over a decade world-class experts as well as beginning entrepreneurs have flocked to my groups and events with the knowledge that they would be connected to and lead by the best of the best.
Magic happens in this unique intimate environment, where Millions of dollars have been made through the power of the relationships and people are constantly updated on the latest art, science and technology of finding your passion, building your business and discovering the power of doing amazing things together.
But this brand new, expanded Impact program is taking this adventure to a much more pro-active, dynamic and higher level.
BEFORE …
Thousands of people learned
Hundreds of cutting-edge businesses were created
Millions were made
Countless Lives were changed
Just by putting amazing people together.
NOW …
We are proactively and systematically BUILDING and matching people and resources while we raise the standards, resources and reach of an entire community of remarkable people you can start working with today.
Here's how we will grow together …
– The New Impact "Member's Only" Social Network
Creating powerful relationships is all about building real relationships with real people and our unique "Members Only" social network allows you to find, connect, converse and colaborate quickly and easily as you share you experiences, vision, knowledge, resources and dreams.
You can easily post joint venture offers to the entire group, discuss needs and problems with your peers, locate and review resources with people who have used them before and find partners to help you excecute beyond your current mindset.
– The jvAlert Perpetual Learning Series Webcasts
This amazing group has an almost unlimited supply of world-class experts who can help you with almost anything you can imagine.  We have experts in psychology, persuasion, best-business practices, speaking, Internet marketing, publishing, packaging, legal matters, customer support, lead generation, list building, traffic generation, Search Engine Optimization, Mobile Marketing, Social Media, Radio and Television, Off-line Media.  The list goes on …
That's what the Perpetual Learning Series is all about.  Live Webcasts, specialized knowledge and expertise when you need it most, so you can get your questions answered live.
– The jvAlert "Hot Seat" Webcast Series
We have a great place to showcase and test your best ideas!
Let our experts put it to the test and put your theory to work in the "real world and build instant joint venture partners for your launch at the same time!
That's exactly what our Impact "Hot Seat" webcasts are all about.
Your project can be the focus for a jam-packed webcast full of potential top-level joint venture partners and new friends.
Listen in as our panel of experts takes our members latest and greatest ideas and put them through the "reality check."
If you want to have significant success, you can't do it with get rich quick schemes, quick fixes and zero effort, but you can do it with a well thought out idea, lots of work and some help from some of the best minds in the world.
Now all you need to do is come up with the great idea! Don't worry, even if you've never thought up an original idea in your life, you can still get some great ones by taking part in these special webcast events.
Imagine a team of Experts working with YOUR next great idea!
Our panel of top-level specialists are standing by to share their most cherished techniques and secrets with you!
Here's the way it works …
As an Impact Member you are given the opportunity to apply to be on the "Hot Seat."
Our panel selects the best ideas and those ideas are assigned a spot on the "Hot Seat" schedule. The presenter of the idea prepares a 5 minute presentation to pitch their idea to the "Hot Seat" panel of experts and all of the people who attend this webcast event. Then the fun begins …
You get to listen in as our panel grills the person on the "hot seat" and picks their project to bits. Then we turn right around and build it back up with ideas from the best minds in business.
You KNOW you are going to pick-up some great ideas from this series whether you are in the "Hot Seat" or comfortably watching someone else squirm a little as these top-level professionals show you exactly (and specifically) how to take a starting idea and turn it into REAL money.
– Impact Live Events
Three times each year all of the Impact family will gather to proactively learn, partner and deepen our relationships and just have fun at our live Impact Events.
– The Impact Learning Center
We all learn in different ways, so we've put together a wonderful resource center with hundreds of resources in all kinds of formats.
Whether you learn best by watching video, reading a special report or listening to an audio recording, you can find a wide range of educational resources in our Impact Learning Center which were created by some of the top experts in the world.
Here are just a few examples of the topics we cover …
Brainstorming And Research
7 Steps to Creating Remarkable Projects
How To Select a Great Domain Name and Register it
How to Create Content
Legal Issues for Info Product Creators
Outsourcing Secrets
Niche Research
Product Development
Internet Infomercials
Adding Audio and Video To Your Website
What is a Long-Tail Keyword?
Building Products Quickly
Products from Teleseminars
Packaging
Photography for Info Products
Selling Products on Ebay
Copywriting
Designing Your Website
How Live Seminars and Events Help
Guide to Private Label Rights
Affiliate Programs And Joint Ventures
Launching With Style
Building a Lifestyle Business
Follow-up and Customer Support
How to Destroy Your Business for Maximum Profit and Fun
Social Media and Business Growth
Protecting Your Intellectual Property
Lead Generation
Next up are …
– Impact Sponsored Joint Projects
Impact will be pro-actively selecting projects to be launched under the Impact brand, putting together teams to execute the projects and splitting profits among the participants.
Think of an opportunity to work in a team environment where everyone profits from the results of each person's special talents, resources and skills and leveraging the reach of the entire active community to get the word out about high quality products and services.
Or maybe you just need help finding the right partner for your own project.
Our Impact Partner Matchmaking Services will pair you up with partners that fill the gaps in your current and future projects in an efficient way that you couldn't possibly do working alone.
For our higher level programs we will be introducing Impact facilitated masterminds where a paid Impact facilitator will coach you and a hand-matched mastermind group of your peers as you accelerate your growth and are held accountable for your actions and your results.
Additional options for our higher level programs include – Impact Personal One-on-One Mentoring Programs.
So here's the question for YOU!
What's YOUR level of participation going to be?
I'd love to see you be committed to give in a very special group of people.
Much more coming soon!
I'm about to start inviting people in, so let me know what level of participation YOU have to build your dreams using this family of amazing people.
All the best,
Ken McArthur
Tobri.com
KenMcArthur.com
jvAlertLive.com
And more, more, more.