I'd really like your take on this …
Bob Yeager and I are doing a special case study project together and it's all around building a real action plan to drive massive amounts of traffic and create a highly engaged audience of raving fans.
You may remember the domain because it was the site of an earlier case study in which I drove the traffic into the top 1% of the top 1% of all sites on the internet.
Here's the original case study if you are interested.
https://kenmcarthur.com/casestudy/
The site was called BuzzBreaker.com and it was all about trending news topics.
Well, I haven't really done anything with the website since the case study.
I only created the website because mastermind I'm in challenged me by asking me whether I could really drive traffic to a website TODAY!
You know me! I refused to be OLD news!
But … the website right now IS old news!
TODAY the website is sitting at an Alexa Ranking of 1,630,657 which is not so great, because I haven't done anything with it for a while.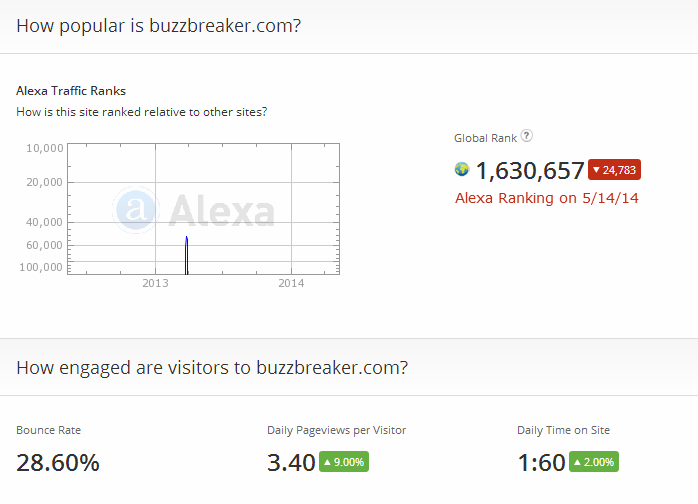 Let's DO Something!
Bob and I are going to develop an Action Plan to take it through the roof in terms of both VISITORS and ENGAGED FANS.
Brainstorming the other day, Bob and I BOTH got excited about some of the DIFFERENT ways that we both build audiences and drive traffic and couldn't resist the FUN of doing something together.
Just to be clear, we are developing a SPECIFIC step-by-step action plan so that YOU could replicate this process for your own website.
BuzzBreaker.com will be the case-study that proves the point, because you know I love proving that my stuff works in the real world.
As you probably know I've done this multiple times for my own websites and for startups, but as I was starting the build out of steps, tools and resources that we want to include in the plan, I thought I'd ask YOU what's working for YOU right now.
Remember this is a simple WordPress site. You may know of plugins or systems or traffic sources or strategies or techniques that drive traffic and even better targeted leads.
If you know of something that REALLY works, this a a chance to prove it to me and Bob.
I know that if we include YOUR ideas and resources in the ultimate traffic and lead building system, it could mean a significant boost in YOUR visibility and potential clients, customers and fans.
So contact me privately or leave a message here if you can PROVE that you can drive massive traffic to a simple WordPress site by actually DOING it.
Bob and I are eager to know what's working for you right now and you can help us test out your results in a real-time case study.
If you can make it happen, we would love to feature your ideas, resources and strategies in something very special.
Make it so!
All the best,
Ken McArthur
KenMcArthur.com
TheImpactEvent.com
OneDayIntensive.com