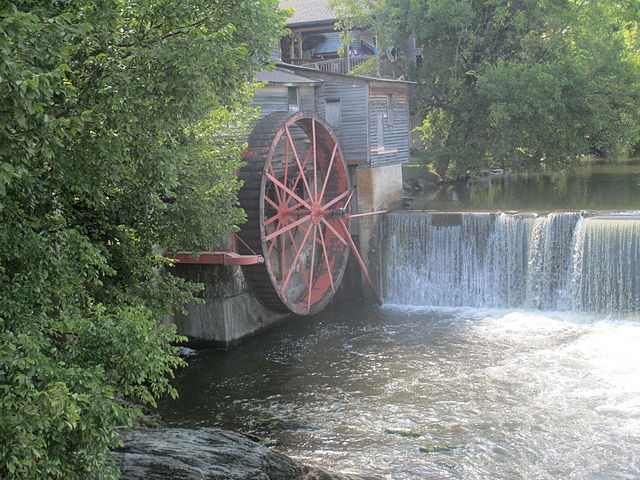 Shopping …
I will tell you about a couple of things that I noticed a few years ago when I spent a couple of solid days going through gift shops in the Great Smoky Mountains of Tennessee.
I think they might help you see yourself in the marketing world.
I'm not a "tourist-trap" gift store customer by nature.
Most days, you would be pretty hard pressed to get me in the door of a gift store. But, duty calls and I answer to a higher authority so …
I saw lots of them.
Most of them were almost exactly the same, with all of the same items and services repeated constantly store after store.
Most of the items were made in China and my wife told me that they were the same as the items that she found offered in Alaska on her trip there.
Did you know that there were over 20 "Old Time Photo" shops in Gatlinburg? I'm not even going to get into the number of places that sell "bears" of all forms, shapes, uses and abuses.
So the first problem is:
How do you stand out in an ocean of "tourist-trap" gift stores?
Hmmm, not selling bears or "Old Time Photos" for sure.
Still I managed to walk into lots of stores …
A lot of the shops had one person in the store — often the owner — much like Internet small businesses.
I wandered into three separate shops where the owner was on the phone — in all three cases complaining to someone that business was slow — seriously.
I went into a few shops where the shop owner was obviously loving what they did and eager to talk to a stranger from "up-north." They shared their story and gave me interesting tidbits of information about their favorite pieces, their personal lives and how much they enjoyed what they were doing, pointing out every detail that made their products the very best.
You could probably guess which ones made more money.
But …
The place where we spent the most money was a complex of buildings under one ownership which was built around a historic mill that was still in operation. They stone-ground corn and wheat in the mill and created an amazingly diverse quantity of quality hand-packaged products which included everything from fritter mix to corn meal.
We took the tour of the mill, explored the products — but resisted buying any — and then walked by the Old Mill Pottery House Cafe where we could look in the glass windows and see and smell ovens full of freshly baked breads made with wholesome grains stone ground at the historic Old Mill.
Traditional fermentation is used to fully develop the natural flavor of the wheat resulting in an exquisite loaf of classic artisan breads, but we didn't know that as we walked by. All we knew was that it smelled and looked wonderful.
We sat down for a wonderful meal and were impressed. Great food and way too much of it at a distinctly "non-tourist" price.
But there was more …
Their plates, bowls, salt shakers, even their bathroom sinks are handcrafted by skilled artisans next door at Pigeon River Pottery and it was pointed out to us that there was a "kitchen store" where you could get all of the supplies that were used to create their wonderful meals.
In the "kitchen store", we found everything you need for an Old Mill breakfast, lunch, or dinner right at home – from their famous corn chowder, to signature bread mixes & signature salad dressings and unique serving pieces such as bread dippers for the Bakery's fresh-baked artisan style breads, and their in-house potters brand new line of Farmhouse pottery and bakeware.
Then we discovered the Old Mill Candy Kitchen, where they pull and cut many flavors of taffy with machines that have been in service form more than 75 years cooking in old fashion copper kettles and hand dipping many of their chocolates. They had homemade fudges and brittles, divinity and chocolate-covered cherries and of course, bears can't be left out so they had their famous, Bear Paws, made from the fine milk chocolate, homemade caramel, and fresh pecans.
Now, I know you are thinking … food huh Ken? No problem selling you!
But, it wasn't me that spent way too much in the "kitchen store" or the Candy Kitchen. I answer to a higher authority and somehow, amazing quality, reasonable price, grabbing every sense available and delivering a quality message over and over in lots of different ways added up to an amazing experience and …
Oh yeah … No one had time to be on the phone complaining about the slow business.
We were waiting in line to buy.
If you are in Pigeon Forge, Tennessee, you might want to take a look.
Come to one of my events!
Live events move you faster than anything I know.  Building relationships is crucial and successful people attend live events.
I've love to meet you in person and introduce you to amazing people to get you on the way.
https://kenmcarthur.com/events