Yesterday, I went to an event.
Some people were happy and others were definitely not.
The event promoter put a ton of money and effort into putting on a great event, but instead of the big event he was planning, the event turned out to be very small.
Some people were understandably upset.  Speakers had traveled at significant expense to attend the  event expecting to speak to 800 or more people.
The stage was beautifully set, a six person video crew was on hand to tape the event, there were 800 chairs in place and …
People didn't show up.
Well … some people showed up, but probably less than 5% of the people who were expected.
This is a painful situation for everyone.
And it's when you find out who your friends are.
Imagine the first day of the event. The event promoter has poured countless hours and dollars into the event, the speakers have flown across the country or in some cases halfway around the world to be there and there are empty chairs everywhere.
If you are the promoter or one of the speakers at first you are in shock. Then you go through all of the stages of grief …  Rapidly.
Denial
Anger
Bargaining
Depression
Acceptance
Well maybe anger hangs around a while and acceptance takes a little longer to get around to.
And you make a choice.
Some of the speakers chose to cut their losses.
When they heard about the low attendance they canceled flights and decided not to show up — after all they weren't given what they were promised.
Others, decided to meet their contractual obligations.
Others chipped in and did double work to make up for people who didn't show up.
Some speakers urged the promoter to cut his losses and cancel the event, but he decided to put the event on for the people who did show up.
And twenty or thirty people had a great weekend experience with some world-class speakers.
I was talking to the event promoter and considering the circumstances he seemed to be hanging in there.
I told him ..
"At least you know who your friends are."
When things get really tough for everyone, you quickly discover who is really there for you.
We all have failures and lots of times things don't work out the way we plan.  Friends help us get through that.
When I do live events, for a brief moment in time I'm privileged to be the focus of many people's attention.
Lots of people come up to me and say …
"Ken, if I can ever do anything for you, just let me know."
For the most part, I thank them and we go on with life.  Thousands SAY they will do something for you and the actual friends who do something is  much lower.
The number who will do something for you expecting NOTHING in return is MUCH lower.
That's completely understandable.
We are all busy and EVERYONE has hundreds if not thousands of people who we would like to help … and only so much time or so many resources to share.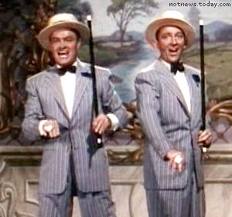 Bing Crosby said this about his relationship with Bob Hope:
"There is nothing in the world I wouldn't do for (Bob) Hope, and there is nothing he wouldn't do for me … We spend our lives doing nothing for each other."
– Bing Crosby
That's the way most of us are with our friends.
Right now, I'm in the middle of launching the beta for Tobri and like a thousand of your other friends, acquaintances and loved ones … I could use some help.
I need to quickly get the word out to people about Tobri and I know that MANY of my friends could tell thousands if not tens of thousands of people in an instant.
ALL of my friends know someone who they could invite.
BUT THEY WON'T
Don't get me wrong, they could!
Tobri is NOT about internet marketing.  It's about connections.
It's for anyone who wants to make great connections or just stay in contact with you.
People can create their own groups, events, play games and just enjoy the wonderful community.
It doesn't cost Tobri beta members anything to join or spread the word.
HERE'S SOMETHING INTERESTING …
If all of my friends told just the people on their mailing lists about Tobri today, there would be a million users on the Tobri Beta today.
Wouldn't that be something?
It won't happen.
Heck, if just the people who told me to let them know if they could do anything for me would just send out a mailing today, I'd have tens of thousands of people on Tobri by the end of the day.
It won't happen.
Now for all of you POSITIVE thinkers, (like me) who are about to write me and tell me I'm not  thinking positively enough ….
I know SOME of you will.
Actually, I'll probably know exactly who does, because I've set up a Google Alert on the word Tobri, and I see most of the results when people talk about Tobri on their blogs, on Twitter, Facebook or in their newsletters.
SO WHAT'S IN IT FOR YOU IF YOU DID …
Here's where the interesting part comes in …

Today, at this moment there is NOTHING in it for you.
We are setting up an affiliate program that will be focused on selling Business memberships, but most of the people we are looking for right now to make up the Tobri Community aren't going to buy a business membership — because they aren't in
business!
Most people in Facebook or on Twitter aren't buying business premium services and most of the people in Tobri won't be either.
Tobri isn't an Internet marketing site.  It's a social network and amazing connection engine.
So right now we just need ordinary PEOPLE.
Soon we will target businesses and give you opportunities to make money from that and Tobri is certainly a great place to find customers, clients, friends and to gain credibility and visibility.
SO HERE'S THE QUESTION …
How many people would you be willing to invite to Tobri? — for nothing — just based on our relationship.
I'm talking about sending out a simple message like:
==============
Hi (FirstName),
Ken McArthur has a new beta site for graphing
and making great connections that I'm really
loving.  Check out the video and connect with
me there.  I really want you in my network!
It doesn't cost a cent and there are some amazing
people in there.  Lots of buzz on this one!
Thanks!
[YOUR NAME]
==============
Would you send it out to a hundred, a thousand, a hundred thousand?
Don't worry.  If you don't do it, I don't blame you at all!
I'm not expecting anything and I'm not going to think less of you if you do nothing or if you only know two people in the world.
If it makes you feel any better, if you DON'T tell anyone about Tobri you'll DEFINITELY be in the  majority.
Because most people won't do anything.
And even LESS people will do something if there is nothing in it for them.
I'm really writing this to a very select minority of people who have come up to me over the course of years and years of being together and said, "If there is ever anything I can do for you …" — and meant it.

If that's you, I don't care if you mail to 100,000 or one person, I'd just love to know that you did.
Why?
Because, I want Tobri to be a success for all of the many people who have invested their time money and dreams into making it something special and …
Because, I love the idea that when the time comes your real friends will do something for nothing.
Whether it's me or anyone of the thousands of people who need you right now.  Do something for nothing for someone today.
All the best,
Ken McArthur
SpeakUpSaveLives.org
TheImpactFactor.com
KenMcArthur.com
jvAlertLive.com
P.S. If you DO send out the word about Tobri, would you please let me know about how many people you've spread the word to, because I'd like to get an idea of the scope of our impact as a group!
P.P.S. Also spread the word about jvAlert Live September 24th- 26th ….
Send me an e-mail and let me know that you are definitely coming!
Hotel Reservations need to be in right now!
Every time people procrastinate and lose out, so don't be one of them.  Get registered today.