I know you're busy so I'll keep this short…
As a high-level influencer, you have three major concerns:
Adding value to your audience
Generating profit in a way that feels right
Guarding your time carefully, and maximizing the value of it
Here's how I can help you do all three in an hour.
I'm looking for a limited number of high quality partners who can give away free access to my most popular webinar to their subscribers.
In return, my goal is for you to make at least $3 for every free registration you send to the webinar.
This is a live webinar that teaches business professionals how to generate an audience of millions for their ideas, products and services, using the power of leveraged impact and the art, science and technology of highly engaged audience building to impact the world and expand their revenue streams quickly and easily.
It's a high content webinar, with a ton of actionable, standalone content. At the end, happy attendees are also offered the opportunity to be a case study in the Impact Factor Movie and invest in a $997 "next level" coaching and mastermind package, for those who want help implementing what they just learned.
As a valued JV Partner, you get paid $300 per sale.
Over the past decade, I've paid out hundreds of thousands of dollars in commissions to my valued JV partners. I know that in this role, my job is to thrill your subscribers and make you money, with as little effort required on your part as possible.
I've led well over one hundred webinars over the years, and I'm constantly studying, testing, and tweaking to improve attendee satisfaction and partner commissions.
Even though I am putting everything together, YOU are still the captain of the ship. From your attendee's perspective, you are their Host and you have invited me to spend time with you all as your Guest. It is indeed an honor to be invited into "your house," and one I don't take lightly. It comes with a serious responsibility, and everything is designed to honor that intention and earn this gracious welcome I have been given.
Don't worry if you've never hosted a guest speaker before for your list because it's easy. I'll be glad to spend as much extra time with you as you need to feel 100% comfortable with everything, but you'll be surprised how little there actually is for you to do!
I know you'll enjoy seeing the whole system running like a well-oiled machine as it does all of the heavy lifting for you.
Endorsed By New York Times Bestselling Authors
""Kenneth A. McArthur is one of the most low-key geniuses I've ever met. I've never met anyone with such a big brain who had such a big heart."
Mark Joyner
New York Times Best-Selling Author
"The Irresistible Offer"
 Webinar Content Overview
This fast-paced and exciting webinar content is targeted towards entrepreneurs and small business owners, but can be especially helpful to:
Coaches
Speakers
Consultants
Authors
Service professionals
Bloggers
Podcasters
Online Marketers
Content Creators
Activists
Non-Profit Organizations
Corporate Visionaries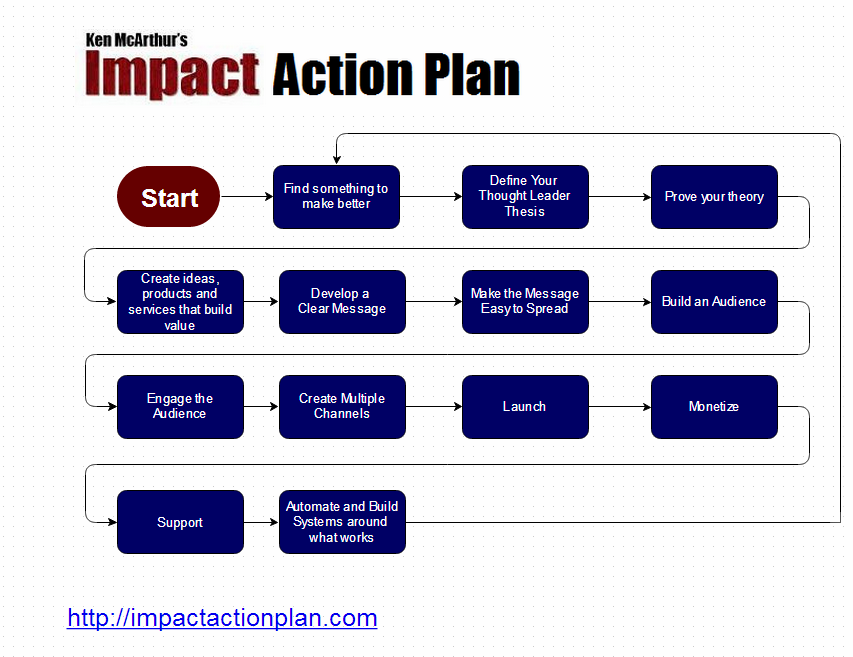 During the webinar, I reveal the essential marketing & monetization best practices from my Impact Action System
The Impact Action Plan System is unique. It's the world's only PROVEN comprehensive marketing and partnering building system focused entirely on making sure that your ideas, products and services spread like wildfire to millions of people each day through the amazing leverage of science, technology, collaboration, marketing and partnering — to build solid profits for your business or organization.
It only takes minutes to get started, but builds profits and relationships that can last a lifetime.
This new adventure will take your visibility, reach and profits to a new level that you can't even imagine right now by leveraging the power of clear direction, knowledge and community.
During this free live training webinar, your subscribers will discover:
The two most essential questions, you need to ask before you start any project.
The three things you absolutely HAVE to have to make money.  (Leave out one and you won't make any money, have all three and you are guaranteed to make money.)
The two CRUCIAL elements you need to build a mass audience and one required insight.
Ten Practical Steps to Build a Highly Engaged Audience of Raving Fans
Five ways to make sure your message spreads like wildfire.
How to break the Viral Coefficient Barrier and get "hockey stick" growth!
Real-Life Case Studies for generating a brand new audience of millions.
Your attendees will walk away with a step-by-step game plan.
We won't waste their time – this is a real workshop providing cutting-edge, rock-solid information, with no strings attached.
Everyone is able to get all of their questions answered live in the webinar chat.
At the end, there is a permission-based special offer to be a case study in my upcoming movie presented. It is seamless with the content and is NOT a "hard sell" pitch. It's a nice invitation to take things to the next level that you as the Host will feel good about after.
 We'll Do All The Work, So You Don't Have To!
You'll Have A Pleasant, Painless "Done For You" Experience
That Will Wow Your Subscribers And Earn You Commissions…
Once we agree that we're a good fit for each other and for your list, we simply set a date. Then, our team goes into production and takes care of EVERYTHING possible, giving you maximum return for minimum investment.
Besides sending a few pre-written emails and showing up for the actual webinar, you can just sit back and relax, because everything listed below will be handled on your behalf:
BEFORE:
Scheduling and hosting of the webinar through the WebinarJam platform
Copy-and-paste announcement emails for your list to use as is or modify [you send these]
Design and hosting the Registration page [see example below]
Design and hosting the Thank You page
Confirmation email to registrants sent upon registration [system sends automatically]
Reminder email sent 1 hour and 1 day before webinar [system sends automatically]
As the Host, you will receive your google hangouts link and webinar outline, so on the day of the event, you're live with us via audio with just one click [no video camera required; all you need is a gmail/google account to sign in to the webinar room through google hangouts]
DURING:
Tech check 30 minutes before air time so you are comfortable
A brief welcome announcement and bio for you to read before turning things over to me
Presentation of the webinar slides and narration
Design and hosting of Special Offer Purchase page tracked with your unique referral code [each sale pays you a $300 commission]
Design and hosting of Special Offer Thank You page
Full hands-free delivery and support for your customers
AFTER:
Editing of the webinar recording
Design and hosting of the Webinar Replay page
Follow-up email to attendees: sent 1 day after the session
Follow-up email to everyone – 1 hour after – recap plus sales link
Replay is live email to everyone who registered
Countdown email to everyone – 1 day before cart closes
Last chance email to everyone – day of cart closing – 6 hours before cart closes
Final call email to everyone – 1-2 hours before cart is closed
Subscribers Are Hungry For This Content And Will Love You For It
Here's an example of the type of presentation I can do for your subscribers, called "Ten Crucial Steps To Build a Highly Engaged Audience of Raving Fans."  This webinar was done for Patryk Wezowski
Founder of Center for Body Language – World's #1 Body Language Training for Business and the
Creator and Producer of The Coaching Movie.
Attendees Rate This Content "10 Out of 10" During The Webinar and People Who Decide to be a Case-Study Rave About the Experience!
Here's what people are saying about the experience …
Let's Have A Conversation
I'm seeking to build a long-term relationship that's less about money and more about people, service and value.
If we partner together, I will be accessible and you will have top priority of my time during our partnership, as will your subscribers and customers. I will be on hand to personally interact with them, answer their questions and provide support. You'll receive daily updates of important stats and have my personal cell phone number.
If you are interested in exploring if hosting a Webinar for your list is a good fit, just email me and I will contact you.
Please include the name of the person who referred you so I can be sure to thank them!
It's easy, email me at: Ken [at] KenMcArthur [dot] com  and I'll get back to you as soon as possible.
Thanks for reading and I look forward to working with you!
All the best,
Ken McArthur
Best-Selling Author and Producer
KenMcArthur.com
The Impact Factor Movie
The Impact Masterminds
The Impact Action Plan Workshops
P.S. Here's the addresses to find me on Twitter and Facebook …
Twitter:
http://twitter.com/KenMcArthur
Facebook:
http://www.facebook.com/pages/Ken-McArthur/20103565427