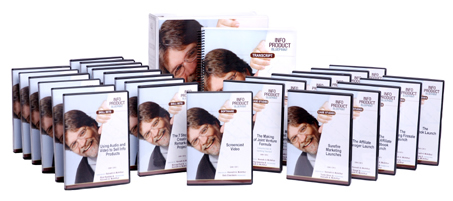 Complete the form below to get your full copy of Ken McArthur's Info Product Blueprint – $1,497 Value – For FREE!
Section One – The Making of Joint Venture Formula – Complete 6 Video Set
This 6 video set documents how I helped Sterling Valentine go from an Internet marketing rookie with no product, no partners, and no large mailing list to an " instant" Internet marketing celebrity. Now you can see the entire process, behind the scenes, documented "as it happened."Section Two – Skill Set Videos – Complete 8 Video Set
Launching With Style—Mike Filsaime

Copywriting Basics—Carl Galletti

Internet Infomercials 101—Mike Koenigs

Selling Your Products—John Di Lemme

Photography for Info Products—Mary Mazullo

The 7 Steps for Creating Remarkable Projects—Michael Port

Two Complete DVDs on Outsourcing Info Product Creation—Frank Sousa
Section Three – Skill Set Audios – Complete 6 Audio Set with full printed transcripts
Using Audio and Video to Sell Info Products—Rick Raddatz

Selling Info Products on Ebay—Mike Enos

Building Content for Info Products—Lori Steffen & Jeff Wark

Customer Service for Info Products—JoAnna Brandi

How Live Seminars and Events Help You Create and Sell Info Products—Mike Ambrosio

Legal Issues to Consider When Creating and Selling Info Products—Bob Silber
Section Four – Case Study Audios – Complete 5 Audio Set with full printed transcripts
Surefire Marketing Launches—Yanik Silver

The Affiliate Manager Launch—Anik Singal

Super Affiliate Handbook Launch—Rosalyn Gardner

Wedding Firesale Launch—Willie Crawford

E-Book Launch—Frank Sousa
Section Five – MASSIVE 674-Page, Comprehensive Info Product Blueprint Workbook and Action Plan
Module 1: Brainstorming And Research
Determine Your Objectives

Fill A Need

Research Your Market

Research Your Competition

Research Your Keywords

Selecting A Delivery Method

Name Your Project And Pick Your Domain Name

Product Descriptions And Messaging Points

Write Your Sales Page

Consider Your Timing

Pricing

Select Backend Products

Create An Action Plan
Module 2: How To Build Your Content
It's Your Turn

Content Is King

Good Content

Why Should You Create Content?

Uses Of Content

Why You Don't Create Content?

It's Time for Some Fun Idea Building

Article Building – The Start

Article Magic Technique

Content Creation As You Talk

Public Domain

Private Label Rights

Stealing Someone Else's Content For Profit

How To Make Money With Rebrandable And Source Code Software And Scripts
Module 3: Product Development
Creating E-Books FAST!

Adding Audio To Your Website

Adding Video To Your Website

How To Create Screen Captures

How To Create Teleseminars

Preparing Teleseminar Audio For A Professional

Why Paying For Content Just Makes Sense
Module 4: Packaging
How To Create Photographs

Graphic Design Advice That May Save Your Life…Or At Least Your Project

Exploring Your Packaging Options

Doing It All Yourself
Module 5: Copywriting
The Personal Touch

Headlines

Subheads

Format and Layout

Stories

Testimonials

Keyword-Rich Copy

Reading Level

Attention Span
Module 6: Designing Your Website
Websites That Sell

How To Capture Leads

How To Work With Autoresponders

Forums

Blogs

Google AdWords For Info Products
Module 7: Selling And Delivering The Product
Making Sure The Order Goes Through

Product Fulfillment
Module 8: Affiliate Programs And Joint Ventures
Setting Up An Affiliate Program

How to Leverage Your Assets With Joint Ventures
Module 9: Launching With Style
Launch Overview

Defining Launch Objectives

Building Buzz

Attracting Partners

"But Wait There's More…"

Growing The List

Public Relations

Social Proof

What Can Go Wrong
Module 10: Follow-up And Customer Support
Follow-Up

Customer Support

How To Keep Building Your Backend For Repeat Sales

Promoting by Email
Appendix A – BiographiesAppendix B – Resources
Section Six – Crucial Data from the Largest Research Survey Ever Conducted on Information Products
The MBS Internet Research Center Information Products Survey
I conducted an extensive, in-depth survey of more than 10,000 people who purchase info products. The survey participants were members of my two online businesses, MBS Internet Research Center and members of jvAlert.com. Together, these members represent many of the same people you might want as customers.My goal was to identify:
What types of info products people bought.

What they expected to pay for them.

Which niche markets have eager buyers.

What types of media buyers want.
The survey results were nothing short of amazing! When you can get customers to tell you exactly what they want, you have information that is priceless. And that's what you'll find in this special report—real buyers of info products telling you what they are willing to buy from you and how much they'll pay.Can a report like this help your info product business? Do I even have to ask?If you use this report, it will be like having customers hand their wallets to you. The information inside is that powerful.
That's 14 Videos, 11 Audios, the massive 674-page Workbook & Action Plan, and the unprecedented MBS Internet Research Center Information Products Survey.